This month, we sat down with founder Ari Tolwin of Happy Tree. Happy Tree produces maple water, a delicious and all-natural drink sourced from the maple trees of the Catskill Mountains.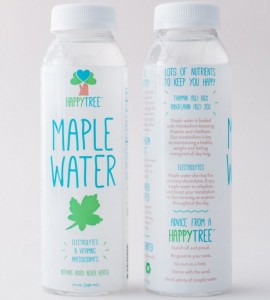 Q: What is maple water? Is it similar to maple syrup?
A: Maple water is what the tree actually produces – boil it to get syrup, which is a concentrate of the water – or enjoy it pure and unprocessed, as we do.
Q: When did you decide to start producing maple water?
A: We first tried maple water while making maple syrup upstate. It was love at first sight for us – and then we quickly heard about a South Korean tradition where they do a pure maple water cleanse, which suggested that something that we are passionate about could appeal to a broader audience.  All in all, we decided to go for it a day or two after we tried it for the first time.
Q: What does the process from tree to bottle look like?
A: We gather the water in the spring, and then freeze it as quickly as possible so we can keep it fresh and raw all year round.  Each week, we thaw a portion of our stash and bottle so it's always fresh in stores – and in our office fridge.
Q: Why choose maple water over coconut water, or the many other healthy drink options that are out there?
A: Maple water is great for someone who wants the nutritional value of coconut water or juice without the sugar and calories.  It's also unique in the role that it plays in nature – when the ground is frozen and the water doesn't flow, nature doesn't bloom, and when the ground thaws and the water flows, the trees come back to life.There is no other beverage that has a comparable role in nature to pure, raw maple water
Q: Where can people find Happy Tree maple water?
A: All over NYC!  Whole Foods, Fairway, Oren's Daily Roast, Gourmet Garage, Foragers, and many others.  Check out our website at drinkhappytree.com for the most up-to-date list.